Engagement
An engagement ring is not just a piece of jewelry, but a symbol of love and commitment. Honored to be a part of your beginning, we are committed to providing the highest level of customer service and expertise to ensure that you find the perfect ring to mark this occasion.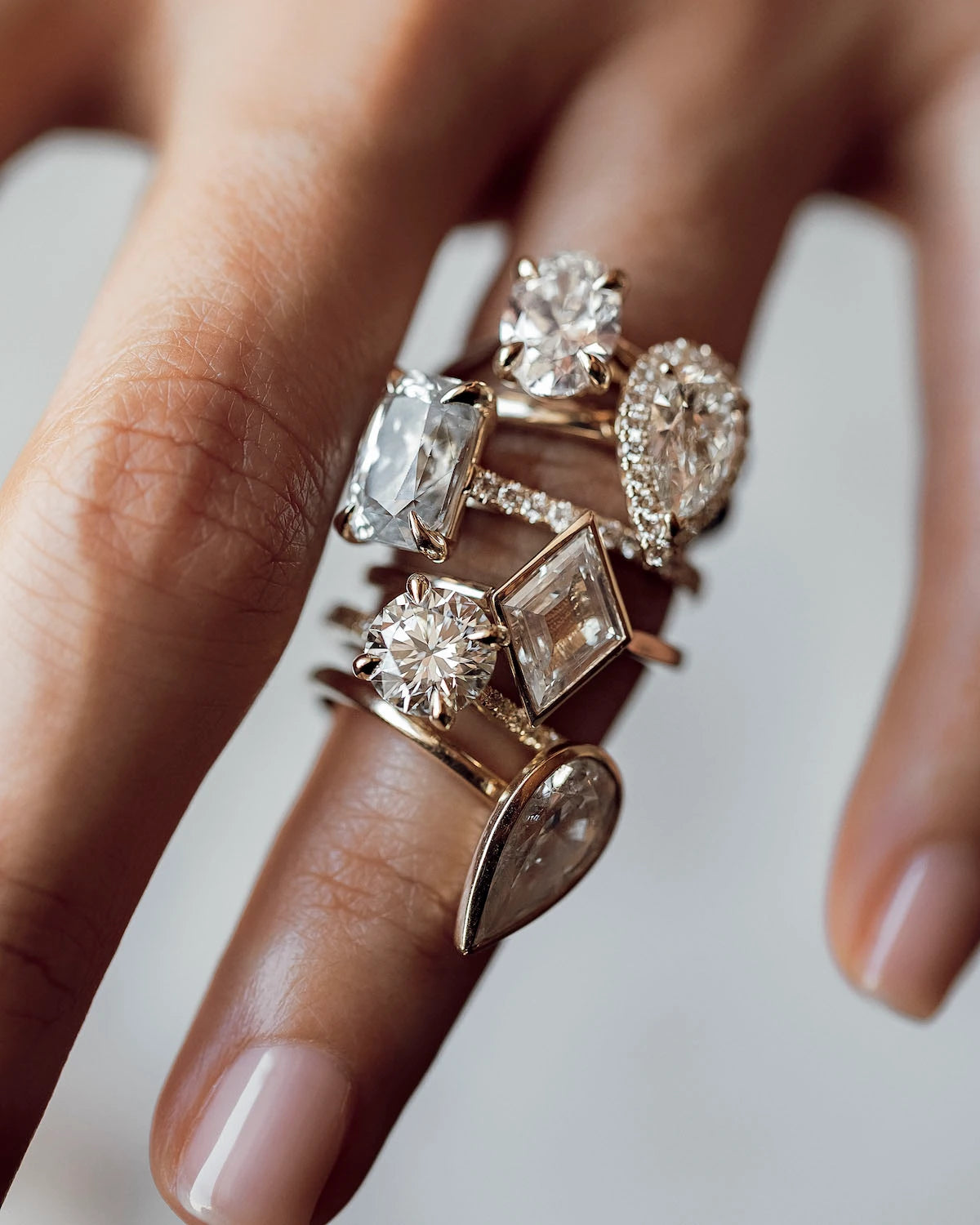 SHOP BY SHAPE
Diamonds come in a variety of shapes, each with its own unique characteristics and appeal. Some of the most popular diamond shapes include round, princess, cushion, emerald, oval, pear, marquise, and heart. Find the one that that represents your love.
Pear

Also known as a teardrop diamond, this combination of a round and a marquise, with a tapered point is cut to shine.

Shop

Oval

Timeless and elegant, the oval elongates the finger and offers a brilliant sparkle.

Shop

Princess

Characterized by their square or rectangular outline and brilliant facets, the princess cut is one of the most popular diamond shapes.

Shop
Emerald

Emerald cut diamonds are classic and elegant with a rectangular outline and stepped facets creating a hall-of-mirrors effect.

Shop

Brilliant

The brilliant cut diamond, or round cut, features a circular outline and 58 facets for maximum brilliance and fire.

Shop

Marquis

The marquise cut is known for its impressive brilliance and sparkle, thanks to its long and narrow shape that maximizes the amount of light that enters and reflects from the diamond.

Shop

Make It Your Own
Our tool is the perfect solution for anyone who wants to make their engagement ring dreams a reality. Whether you have a specific style in mind or you're not sure where to start, our tool can help you design the perfect ring for your partner.
With our easy-to-use interface and wide range of customization options, you can choose the perfect metal, setting, and stone to create a one-of-a-kind ring that reflects your unique style and personality. You can even add personal touches like engraving or selecting a specific cut for the diamond.
Start Designing